Good language skills are important nowadays; this is especially true if you want to work abroad. If you want to refresh your school knowledge or learn a completely new language, you do not necessarily have to attend a classic language school, you can learn foreign languages online. Courses on the Internet are becoming increasingly popular because of the low costs and the meanwhile increasing level of quality. A well known online language school is Lingoda, which offers live lessons with teachers who are native speakers.
About Lingoda
The online language school Lingoda was founded in 2013 by brothers Felix and Fabian Wunderlich in Berlin. Today over 80,000 students worldwide use Lingoda. More than 1,500 native-speaking teachers work for Lingoda, who are located all over the world. English courses, for example, are taught by qualified teachers from the USA, Canada, Great Britain, Australia and New Zealand. The distribution allows Lingoda language courses to take place around the clock. In addition to private individuals, many companies also use Lingoda's language courses for the further training of their employees. These include well-known companies such as Adidas, BMW and Google. Lingoda has also won several awards in the meantime. In 2021, the company was named the best language learning solution at the EdTech Awards (which stands for Education Tech).
What languages does Lingoda offer?
Lingoda currently offers English lessons, but also courses for French, Spanish and German. For English learners, Lingoda offers a special course "Business English" in addition to the standard course, which teaches job-related English skills.

German


English (a separate Course Business English ist also available)


Spanish


French
Is Lingoda suitable for beginners and advanced students?
Lingoda is a fully-fledged language school on an online basis, with learning offers for all 6 proficiency levels (A1, A2, B1, B2, C1, C2) of the Common European Framework of Reference for Languages (CEFR). For those who are not yet familiar with this classification: Level A1 stands for absolute beginners and provides basic language skills. Levels B1 and B2 are intermediate courses. Those who have language skills at level C2 can participate in complex conversations and are almost at the level of a native speaker. Since Lingoda's teaching is based on the European Framework of Reference for Languages, the courses can also be used to support preparation for the globally recognised language certificates such as BULATS, ILEC, IELTS, TOEIC and TOEFL as well as the Cambridge certificate.
If you already have some knowledge of a language but are not sure at which level of the CEFR (A1-C2) they are, you can take a free placement test on the Lingoda website. You should take about 5 minutes for the placement test. You will be asked 12 multiple-choice questions.
The learning concept of Lingoda
Lingoda offers group and individual lessons. The lessons are led by qualified teachers and native speakers. The 60-minute lessons start almost around the clock on the hour. As the teachers come from all possible time zones, the courses are well spread throughout the day and are particularly suitable for people who are busy during the day and can only study in the mornings, evenings or weekends.
When first registering, students must indicate the level of proficiency (A1-C2) of the CEFR. If this proves to be too easy / too difficult after the first lessons, it is possible to change the level without any problems.
If you want to book a lesson, you can use a slider on the Lingoda website to select the time and day of the week, for example.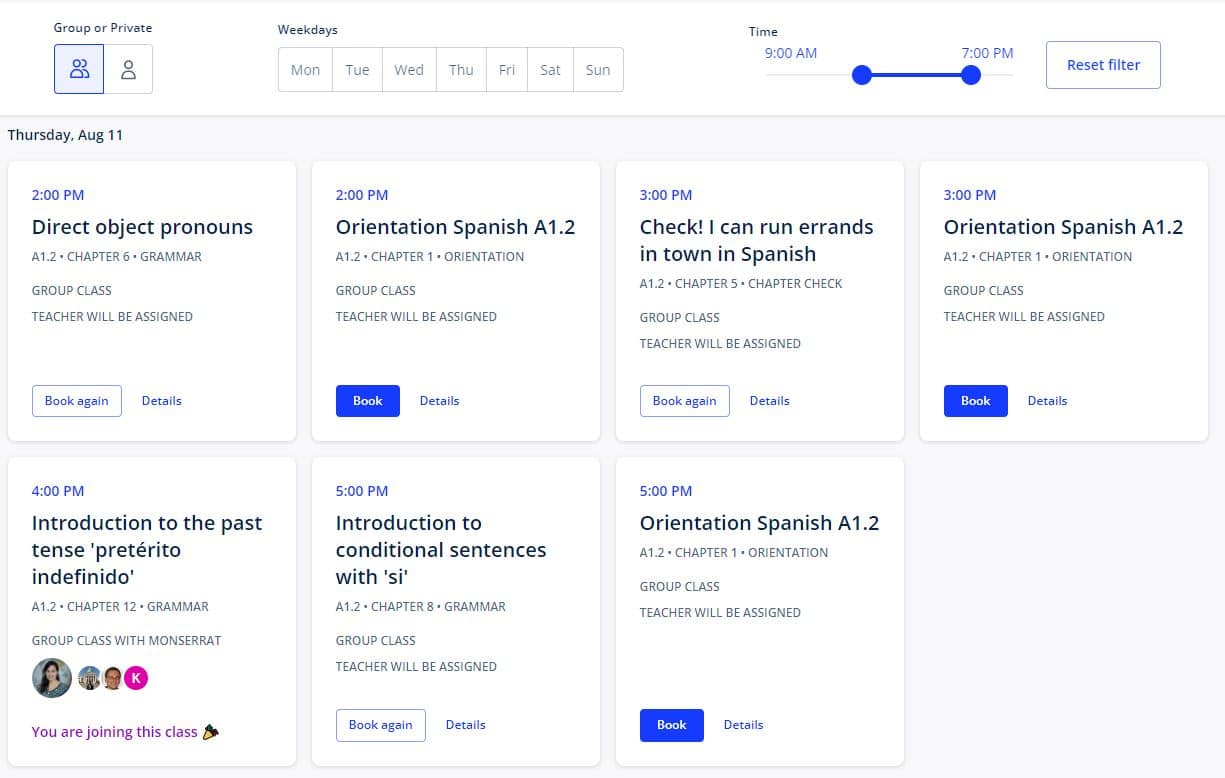 Afterwards, students can choose freely from numerous lessons with different focuses such as grammar, conversation, vocabulary, reading or speaking. Only lessons that match the specified CEFR language level are displayed.
All learning materials are already included in the course (PDF example for download) and there is no need to buy an additional textbook as in many face-to-face courses.
In order to complete a full level (e.g. A2 of the CEFR), a total of 50 teaching hours must be completed in the respective level. It is important to know that each level is divided into numerous sub-chapters with different topic blocks. Lingoda specifies how many of the 50 lessons must come from each chapter. As a rule, however, the lessons are evenly distributed among the chapters.
Lingoda 7-day free trial
Technical Settings
In addition to a fast an reliable Internet connection, students only need a headset, microphone and webcam. The free video conference tool Zoom is used for teaching. Although smartphone / tablet users can also take part in the virtual lessons via Zoom app, Lingoda recommends the use a PC or laptop for the lessons as a big screen is an advantage.
Group lessons
In addition to the teacher, at least 2, but usually 3 to 5 students take part in the group lessons. As already mentioned, the teachers (and fellow students) can come from different regions of the world, so that you also get to know different accents (e.g. in the Spanish course teachers from Venezuela, Mexico or Spain…). Overall, the lessons are well structured and oriented towards the teaching materials, which have certain similarities with PowerPoint presentations. But don't worry, it's not a classroom teaching style. The lessons are structured in such a way that students speak as much as possible (e.g. reading out the contents of the slides, discussing the contents of the slides, answering questions…). The teachers take great care to ensure that the participants' speaking shares are evenly distributed. In addition, the teachers give useful tips and correct pronunciation. For writing tasks (e.g. conjugation of verbs), the chat function of Zoom is used. The learning atmosphere in the courses I attended was pleasant and relaxed. After the lesson, you can test your knowledge in most of the lessons; Lingoda often offers multiple-choice tasks for this.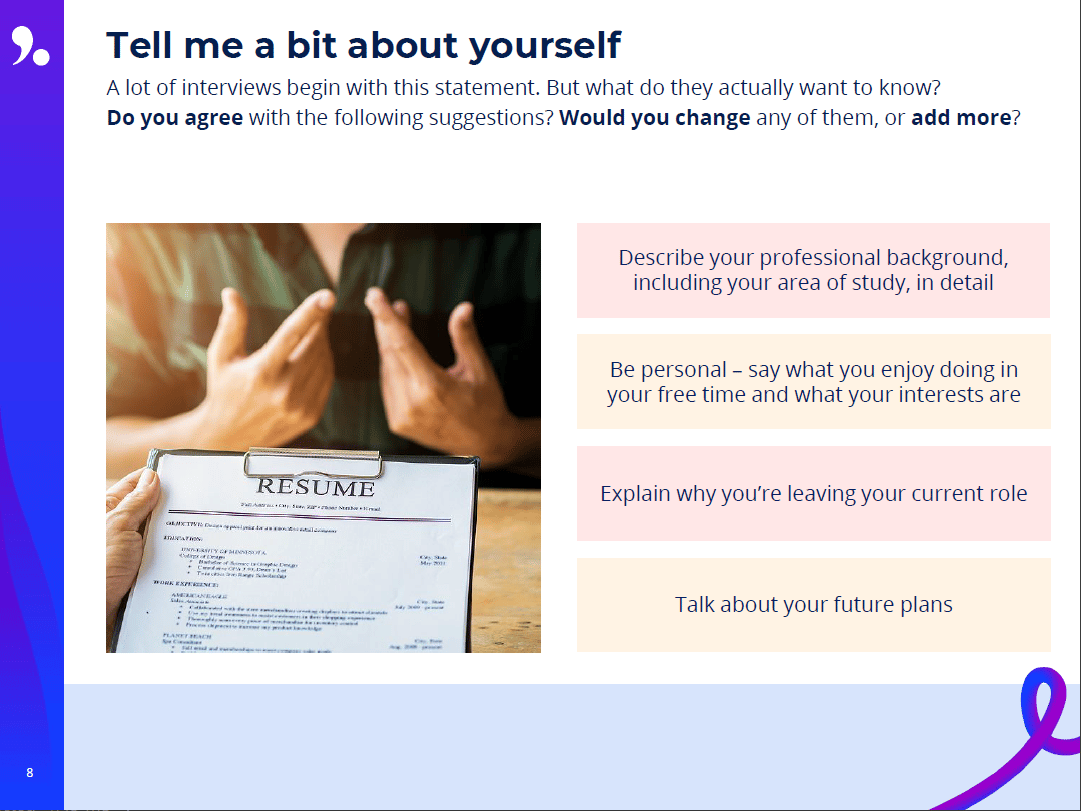 How much do group lessons cost?
With group lessons, students can choose the pace at which they want to learn. Lingoda offers 4 possible price levels. The cheapest course includes one lesson (60 minutes) per week or 5 per month and costs 60 euros per month. This means a single group lesson costs 12 euros.
The next highest package includes 12 group lessons per month for 125 euros per month. For people who want to learn a language as quickly as possible, Lingoda offers a package with daily lessons. For the price of 339 euros per month, 40 hours of group lessons are then included.
For all packages, the minimum period is one month, so the subscriptions can be cancelled monthly. The period is automatically extended by one month if the course is not cancelled before the end of the month. Lingoda supports credit card (Visa, Mastercard), PayPal and instant bank transfer (Sofortüberweisung) as payment methods.
Lingoda prices for Groups:
Note: The following prices are for the English course. Spanish and French courses cost one euro more per lesson.
| Hours per month | Cost per hour | Total | Offer |
| --- | --- | --- | --- |
| 5 hours | 12 Euro / hour | 60 Euro | Go to offer |
| 12 hours | 10 Euro hour – 17 % discount | 199,99 Euro | Go to offer |
| 20 hours | 9 Euro / hour – 28 % discount | 179,99 Euro | Go to offer |
| 40 hours | 8,5 Euro / hour – 32 % discount | 339,99 Euro | Go to offer |
Private lessons
As an alternative to group lessons, students can also book lessons with a private teacher. In the private lessons, students can also suggest their own topics, for example to prepare for an exam, an interview or a presentation at work. As with group lessons, the pace of learning can be adjusted to suit individual needs and ranges from 1 hour per week to 1 hour per day. As with group lessons, the minimum duration is 1 month.
Lingoda prices for private lessons:
| Hours per month | Cost per hour | Total | Offer |
| --- | --- | --- | --- |
| 5 hours | 30 Euro / hour | 149,99 Euro | Go to offer |
| 12 hours | 23 Euro / hour – 23 % discount | 275,99 Euro | Go to offer |
| 20 hours | 20 Euro / hour – 33 % discount | 399,99 Euro | Go to offer |
| 40 hours | 18 Euro / hour – 40 % discount | 719,99 Euro | Go to offer |
Lingoda Sprint
Another product is the Lingoda Sprint. The Sprint is a marketing promotion where learners can book a 2-month intensive course with 30 lessons in total (~15 lessons per month). Those who participate in 100 percent of the included lessons will receive 50 percent of the tuition cost as cashback. Those who successfully participate in the Sprint can reduce the cost per lesson from €12.60 to just €6.30 thanks to the €190 refund, a very attractive price indeed.
However, interested parties should also read the 14-page set of rules with more than 50 clauses in order to not be disappointed afterwards. For example, if you miss a lesson due to your own fault, you lose the refund / cashback. Cancellation of lessons is also only possible if they are at least 7 days in the future (special rule for Sprint!). Participants are also only allowed to attend one lesson per day. If you attend more lessons in one day, you lose the chance to receive cashback. After the end of the promotion, the Sprint also turns into a paid monthly subscription if the Sprint is not cancelled at least 7 days before the end of the term. As mentioned, this is a marketing campaign and if you have a lot of time and are looking for a challenge, why not!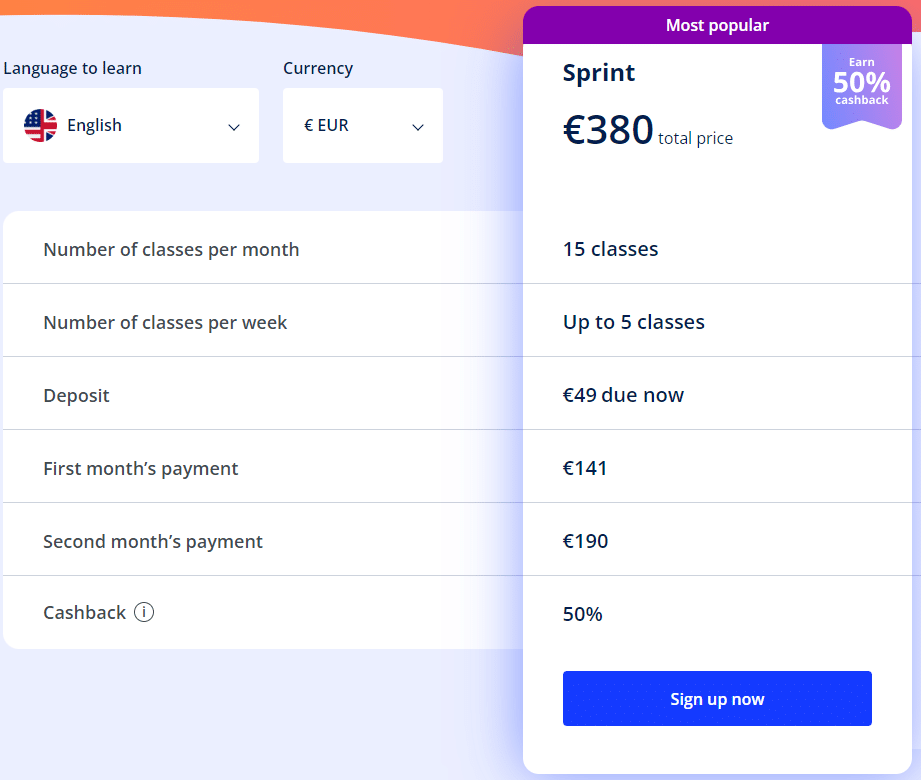 Go to Lingoda Sprint
Lingoda certificate
Lingoda also offers language students their own certificate. Students receive this certificate after completing 90 percent of a course level (45 out of 50 lessons). The Lingoda Certificate provides detailed proof of the student's progress and level of listening, speaking, writing and reading in English. The certificate is internationally recognised and can be used, for example, for application documents.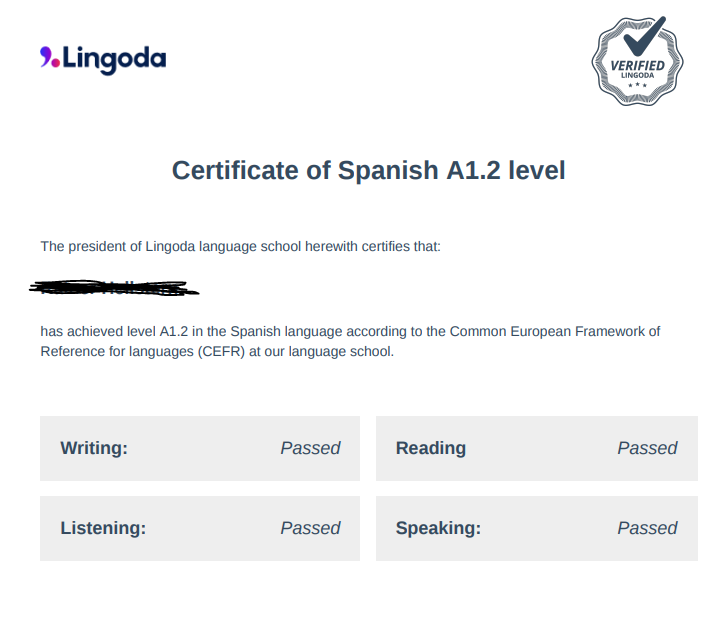 Linguaskill test from Cambridge (only English)
In addition to the in-house Lingoda certificate, students can also take the "Linguaskill test" of Cambridge Assessment English (part of the renowned Cambridge University in England) via Lingoda. The Linguaskill test is a multi-level online test that includes the elements of speaking, listening, reading and writing. The complete test takes 2 hours 15 minutes and can be booked through Lingoda for 149 Euro. Participants receive their test result within 72 hours.
Free trial
Lingoda offers new customers a free trial week, which includes up to 3 lessons. The lessons are not predetermined by Lingoda, but can be freely selected by users from the offer. If the course is not cancelled within the 7-day trial week, it automatically becomes a paid subscription. However, if you do not like the course, you can cancel it very easily under Profile -> Subscription.
Summary
Lingoda is a good platform to learn new languages or refresh existing knowledge. The costs are extremely fair; for group lessons with a native speaker teacher you pay only 8 to 12 euros per hour, for a private teacher for the same duration 20 to 28 euros. Also the short duration of 1 month and that the services can be used 24 hours a day are good reasons to try it out!
Lingoda 7-day free trial